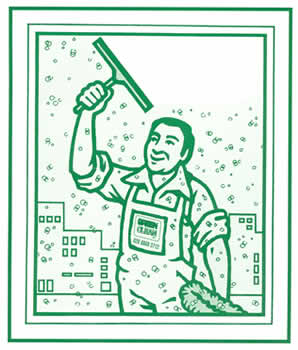 Squeaky Clean Windows makes your glass, windows, & mirrors super shiny.
Given our tool kit, many years of experience, & area of specialization, NOBODY cleans windows better than Squeaky Clean Windows …it's the reason we stay sooooooooooooo very busy.
Since 1996 ===== > it is ALL WE DO!
* Don't be fooled by power washing imitators.
* A squeaky clean window… is a window broken down & cleaned by hand.
* Don't be fooled by steep discounts on any service.
Anyone who hires Squeaky Clean Windows shall wax endlessly on our work ethic, desire for cleanliness, and fair pricing.
With a pro window cleaning kit, no spill Italian window bucket with locking lid, efficient French hand tools, no scratch window scrubbers, dozens upon dozens upon dozens of freshly washed (for your house only) micro fiber towels, poles for those hard to reach spots, & the right ladders, you can be absolutely sure your windows will be squeaky clean.
South Jersey (609) 254 8903

squeaky-clean-windows@comcast.net